In this episode, I share my best network marketing tips to help you build online and still get duplication across your network marketing team.
Is it possible to build your network marketing business online and create duplication within your team?
We all know that duplication is the key to success in Network Marketing.
Which is why I'm asked this question all the time…
If you've been following me a while you know I build 99% of my business online.
However, there are some specific steps you can take to get your team duplicating whether their building online or offline.  So in this episode of Tanya Aliza TV, I'm sharing:
✔ Exactly how I get online marketing to duplicate throughout my team
✔ 5 key steps I take my new teammates through to make sure they're setup for success regardless of HOW they want to build their business
✔ My getting started checklist to get your new teammate off to a proper start
Click play below to watch this week's episode and learn exactly how you too can get online marketing duplicating in your network marketing team.
Network Marketing Tips – How To Build Your Business Online And Still Have Duplication – Episode 96
With every Episode of Tanya Aliza TV, I like to empower you with a POWERFUL FREE resource that you can download and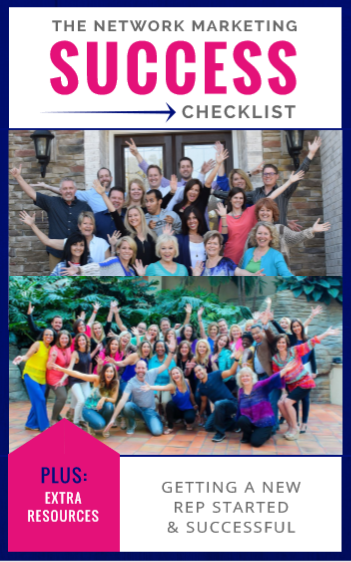 implement right away and create results with fast in your business.
This week, since we're talking about getting your team started properly so you can get duplication, I'm giving you My Success Checklist – Getting a New Rep Started & Successful.
It's so important that when you have a new teammate, you get them off to a proper start.  This checklist will help you understand how I get a new teammate started so you can get more duplication in your business.
You can download it by clicking on the yellow button above.
Network Marketing Tips – How to get duplication in your team when your building online
I started my Network Marketing business in 2009 and took it online in 2010.
When I chose to start building my Network Marketing business online, I did it because:
💠 I was busy working 9-5 at my finance job at the time
💠 I didn't have any extra time to go out prospecting people as I had been trained to do
💠 I ran out of people to talk to
💠 I wanted to position myself as a person of value so that people would be reaching out to me about my business
Can you relate?
Network Marketing Tips – Passive Prospecting vs Active Prospecting
Most people turn to online marketing because they're either afraid to talk to people or they don't want to 'bug' their friends and family.
I'm a firm believer that you should talk to people that you already know and if you do this the 'right' way you won't need to worry about losing your most valuable relationships.
There are two types of prospecting you'll want to do simultaneously when your brand new.
Active & Passive Prospecting
Passive prospecting is when you get your automation in place.  That would be video, blog posts and social media funnel working day and night for YOU.
Active prospecting is when you're reaching out to the people around you.
So even though I build online I do encourage my new teammates to start with active prospecting, so they can create a success story fast.
However, you'll want to move past this phase of active prospecting as fast as possible and start building your passive prospecting as your long-term strategy.
Network Marketing Tips – Have your teams best interest at heart
Now there's a BIG misconception out there regarding duplication.
There's a lot of things that are taught in traditional network marketing training that aren't necessarily duplicatable.
And what might duplicate for one person might not duplicate for another.
It's really important to understand that not everyone wants to build their business the same way.
Everyone is different and unique, and you shouldn't try to fit all your people into a box.
Giving people options and the freedom to choose how they want to build their business is the best thing you can do as a leader.
Network Marketing Tips – Put them through your corporate training
I'm very fortunate that in our network marketing company we have really solid training for our new team members.
So, because our corporate training is the bomb dot com, I like to plug my people into that first.
They go through a getting started checklist that lays out a simple plan for them to follow.
Network Marketing Tips – Get them get their first check
I then move into helping them get their first check.
So in the first 24-48 hours, I help them get as many exposures as possible and I coach and help them with those conversations.
If you can work with your people to get them a check as fast as possible they will be much more motivated to go out there and continue to share the business, service or products.
Network Marketing Tips – Give your team more options
At this point, I present them with their options and let them know how to get in front of new people.
What we do in our team is we coach and train our people with more ways to get in front of the people they don't know by doing what we call, Facebook Live launches and Social Media post launches.
This way they can continue to build and expose their business once they are done talking to the people they know.
Network Marketing Tips – Plug them into team calls & training
I make sure my team is plugged into our weekly team training calls.
This includes me telling them when our company events are going on.
Events are a great way to build culture and so you'll want to make sure you get your people plugged into events as well.
Network Marketing Tips – Manage their expectations
Managing expectations is huge if you want people to stick around for the long-term.
This is a message that needs to be driven home, more so in network marketing and with more leaders.
You need to be real with your team and let them know how much work they'll need to put in, in order to reach their goals.
Network Marketing Tips – In Closing
You and your team can build your business online and YES this will duplicate but it's important to give them options with online strategies after they've reached out to their warm market.
This ultimately ensures that your team feels supported.
If you do it this way you will be one of the most sought out leaders in the industry and people will want to stay connected to you.
Need a step by step checklist on how to get your new people started so you can get more duplication in your team?
I've got you covered.
Click on the yellow button below to download My Success Checklist – Getting a New Rep Started & Successful
Resources Mentioned & More That Will Help Rock Your Biz
The B-L.A.B. – Come Join Us
AKA Build Like A Boss, The B-LAB is Tanya Aliza's FREE Facebook Mastermind group full of awesome Networkers and Entrepreneurs that are all on a mission to grow their businesses Faster and easier with Online Strategies for prospecting, recruiting and sales.  We do themed days of the week, we hold each other accountable and we lift each other up!
Come introduce yourself and your business.